Daily Drinking Guidelines 'Misleading'.
What Were Daily Drinking Guidelines?
With alcoholism and addiction on the rise in the UK, the government has re-evaluated the 'Daily Drinking Guidelines' that were created as an update to the prior weekly limits. The NHS is again returning to weekly recommended alcohol intake which had been used from 1987 right up to 1995.
The daily guidelines are as follows:
Men should drink no more than 3 to 4 units per day (depending on their individual BMI.)
Women should drink no more than 2 or 3.
The Problem with Daily Guidelines
The first issue with a daily limit is it suggests it is safe to drink every day. Nothing could be further from the truth. In fact, recent reports suggest that there is no safe amount of alcohol to drink. Even drinking a small amount of alcohol is bad for your health. This may not seem like news but these are recent findings and go against the long-held myth that a glass of wine a day was good for your health.
The addition of the BMI to the equation is also worrying. The guidelines would appear to be suggesting that those with a higher BMI can drink more units. This is a dangerous idea especially given recent research showing any alcohol consumption carries a higher risk of cardiovascular disease and cancer. Both are risks also increased by being overweight, giving significant cause for concern.
What Do the Experts Say?
A representative of the Alcohol Health Alliance UK, Dr Nick Sheron, has spoken out against the current standard, saying that the limits were improvised by civil servants rather than medical professionals and were implemented with "no good evidence" for doing so. Dr Sheron recommended a return to 'weekly limits' that were used from when they were changed, ironically, to ease confusion. He said, regarding the daily standard: "They were turned into daily limits by a community of civil servants and the reasoning behind it is shrouded in mystery."
The weekly limits were based on robust studies and were set at a level at which alcohol harms outweigh any putative benefit." ('putative' means 'believed in') Dr Rachel Seabrook of the Institute of Alcohol Studies has said: "We are concerned about the use of 'daily' in the message. It implies that you can drink on every day. There should be a specific warning against this." "The Royal College's recommendation of two days of abstinence a week has quietly disappeared. It was probably dropped to keep the message simple, but that is not a good move." The Department of Health defended the move to daily guidelines:
An inter-departmental working group examined the scientific evidence base in 1995. This has been kept under review since then." So, a precise and clear response from the government at least! In 2007 Britain, the year Gordon Brown became the Labour Prime Minister, 69% of the British public (the ones that were asked at least) said that they had heard of the government's guidelines, but 40% did not know what those recommendations were.
The year before that, 12% of men and 7% of women surveyed said that they had drunk alcohol every day for the previous week. The UK population for 2006 was 60,587,300. So if the survey results are hypothetically expanded to include the whole country, that makes 7,270,476 men and 4,241,111 women drinking every day.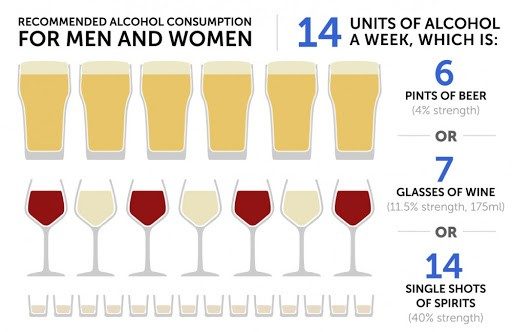 Balancing the Drinking Guidelines
Thankfully the NHS has decided to abandon the daily drinking guidelines in favour of the current weekly limits.
Men and women should not drink more than 14 units of alcohol per week regularly
This limit should be spread across at least 3 days
You should try to have two or more alcohol-free days a week
These new rules keep the idea simple and easy to follow while emphasising the importance of 'taking a break from drinking on a regular basis. With alcohol addiction and hospitalisations linked to binge drinking rising year on year, these guides are vital. Add to this how the Covid-19 pandemic has left more and more people drinking at home.  The combination of isolation, boredom and lack of accountability has only pushed alcoholism further up. Drinking at home makes it increasingly challenging to measure and control how many units you drink. If you or a loved one are struggling with keeping your drinking under control call us on 02072052845 for free confidential advice.
Light Drinking and the Risk to Unborn Babies