Chlordiazepoxide (Librium)
Chlordiazepoxide, commonly referred to as Librium, is a pharmaceutical drug used for alcohol withdrawal. It is a benzodiazepine and a sedative as well. It is also used to treat mental disorders including anxiety and panic attacks.
In this article, we look at what this drug actually is, what it is used for, how it can help in the short term treatment of alcoholism, the possible side effects and how to access a Librium detox. We also cover Librium side effects, tolerance, dependence and addiction.
What is chlordiazepoxide – Librium?
This pharmaceutical drug commonly sold under the trade name of Librium and Tropium is a medication that belongs to the class of benzodiazepines. Librium is both a sedative and hypnotic medication and is licensed for use in the short term treatment of anxiety, insomnia and drug and alcohol withdrawal. (1)
This drug only treats the symptoms of the conditions it is licensed to be used for, and it does not cure the condition. We feel that it is important to highlight this, as once the medication has been stopped the cause of the condition will still remain and require further treatment; whether that be medically and/or therapeutically.
Chlordiazepoxide was the first benzodiazepine to be synthesised (manufactured). The drug was patented in 1958 and approved for medical use in 1960 (2) However, due to its addictive properties (like all benzodiazepine medications) and it's potential for abuse, restrictive medical guidelines were put in place for its prescribing.
Chlordiazepoxide is a Class C medication in the UK under the Misuse of Drugs Act 1971. It was added to the list of controlled drugs in 1985. This drug is deemed to be harmful if misused or abused. (3)
Chlordiazepoxide/Librium used in the management of alcohol withdrawal
The drug has amnesic, anticonvulsant, hypnotic, sedative and muscle relaxant properties. It is these properties that make it an ideal medication to treat and subdue alcohol withdrawal symptoms.
This pharmaceutical drug tends to be favoured over diazepam in the treatment of drug and alcohol withdrawal. This is because this drug is less potent than diazepam (valium). There are also indications to suggest that diazepam is potentially more addictive.
Chlordiazepoxide has a shorter half-life than diazepam, 5 – 30 hours as opposed to 20 – 100 hours. Librium effects wear off more quickly than diazepam meaning that the drug leaves the system faster once the drug or alcohol detox has been completed (4)
Chlordiazepoxide is generally well tolerated by most, but in some individual cases, it will not be the most appropriate or effective treatment.
The chosen medication for an individual's detox should only be determined by a qualified doctor. The doctor will need to consider the patient's full medical history, any current medications they are taking, any possible drug interactions and any past history of drug and alcohol detox or abuse before making a medically informed decision.
If you or a loved one need immediate help with stopping alcohol safely, call and speak to our detox experts now on 02072052845. Our lines are open 24/7, and we are waiting to take your call.
Chlordiazepoxide side effects
As with any drug, the drug carries a list of possible unwanted side effects. Every person is individual and metabolises the drug differently. Used under full medical supervision chlordiazepoxide is generally considered very safe.
Most individuals who undergo a Librium detox will only experience mild to moderate side effects related to the drug's sedative properties. These side effects also tend to lessen over time.
Undergoing an alcohol detox with Rehab Guide, the medical team will ensure that you are continually monitored. Any side effects that present as troublesome or cause for concern will be addressed immediately by one of the detox doctors. However, the vast majority of our patients complete their detox without any discomfort or issues.
Common Librium side effects:
Sleepiness

Drowsiness

Reduced coordination

Constipation

Lethargy

Reduced cognitive ability

Feelings of relaxation

Dizziness

Tolerance and dependence

Euphoria

Blurred vision

Nausea

Irregular menstrual cycle

Swelling

Skin rash

Liver problems (5)
Chlordiazepoxide very effectively reduces alcohol withdrawal symptoms. In many instances, it eradicates them completely when medically conducted.
Rehab Guide's CQC registered alcohol detox, and rehab centres regularly conduct alcohol detoxes using Librium. The staff are fully medically trained and will do everything to ensure that your treatment experience runs as smoothly and comfortably as possible.
How long does a detox take?
How long your detox takes will depend on several factors individual to you. Most alcohol detoxes can be safely completed using this medication within 7 to 14 days. However, it is strongly recommended that you stay and complete a full alcohol rehabilitation programme in order to safeguard your sobriety and lay the foundations for your ongoing recovery.
Librium is not a cure for alcoholism; essentially, Librium enables the safe removal of alcohol through suppressing alcohol withdrawal symptoms.
Once the detox is complete, the underlying causes of your alcohol dependence and addiction (i.e. alcoholism) will still require intensive specialist treatment. We cannot stress enough how important alcohol rehabilitation is, where an alcohol misuse disorder is identified.
Medical recommendations 
Chlordiazepoxide is a powerful sedative drug and as such, is likely to make you feel sleepy and drowsy. It is strongly recommended that you not drive, operate machinery or make any important decisions while you are taking this drug.
It is also important that while you are taking chlordiazepoxide that you do not take Librium and alcohol or take any other drugs. This is classed as abuse of the drug.
Chlordiazepoxide's side effects will increase when mixed with alcohol or drugs. This is considered extremely dangerous and could lead to overdose, respiratory depression, coma and death.
 The likelihood of an overdose is vastly increased when it is mixing chlordiazepoxide and alcohol, opioids, benzodiazepines, other sedative medicines or drugs (6)
Furthermore, in order to reduce the chances of complications developing and to avoid becoming Librium dependent, an alcohol detox should only be facilitated within a medical facility such as a hospital, detox clinic or rehab centre.
This way, you will be in a safe and protective environment, with medical staff on hand to ensure your wellbeing throughout the entire detox process.
Buying Librium tablets online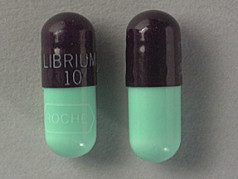 Many who are in need of an alcohol detox may well be tempted to try a Librium detox at home by purchasing Librium tablets from the dark web. Rehab Guide strongly advises against this!
Not only is it illegal to buy chlordiazepoxide without a prescription, but it is also extremely dangerous. Dark web prescription manufacturers often source counterfeit drugs that contain potentially lethal substances. Not only that but self-managing a medical alcohol detox is dangerous and rarely works.
Many individuals that buy controlled prescription drugs online (especially medicines that belong to the benzodiazepine family of drugs) end up addicted to them.
Detoxing from both alcohol and benzodiazepines together is considered one of the most complex and dangerous detoxes. It has the potential to turn life-threatening very quickly. This detox should only be conducted within a reputable rehab facility under full medical supervision.
If you or a loved one need an alcohol detox or detox from both alcohol and a benzodiazepine, please call and speak to Rehab Guide's experts. We can ensure that you access the professional medical care and treatment required to ensure you detox safely and successfully.
Librium tolerance, dependence & addiction
Chronic and/or long term use of Librium (or any benzodiazepine) leads to the development of tolerance. This means that the individual affected will need to increase the amount of Librium they are taking in order to feel the effects.
Librium (as with all benzodiazepines) tends to lose its sedative properties within 3-14 days of continuous use. Experts say that there is little evidence to support using Librium for anything other than the short term treatment of disorders such as anxiety or insomnia. This is because the individual will have developed a tolerance and dependence when used continuously for more than 14 days (7)
Librium can cause a physical dependence when taken for a prolonged period of time or abused. Chlordiazepoxide dependency can also occur when following a legitimate doctor's prescription.
It is essential if you do have a dependency that you do not stop taking the medication suddenly, this will lead to acute benzodiazepine withdrawal which is considered life-threatening.
The higher the librium dosage that the individual takes and the longer they have been taking it for increases the risks of complications developing during withdrawal. It also increases the severity of withdrawal symptoms which can be very unpleasant and similar to alcohol withdrawal symptoms and barbiturate withdrawal symptoms.
Attempting to stop Librium where a dependence has developed should always be medically managed using a gradual dosage-reduction regime. This will lessen the severity of  withdrawal symptoms and lessen the risk of life-threatening complications developing (8)
Librium addiction occurs usually occurs in those that misuse or abuse this pharmaceutical drug. Treatment for Librium addiction needs to be bespoke and treat both the physical and psychological aspect of the disorder. For those that suffer from an addiction to chlordiazepoxide a full medical detox and inpatient rehabilitation programme is recommended. This should ideally be conducted within a reputable CQC registered drug rehab centre.
Accessing a Librium detox for alcohol
Rehab Guide specialises in the provision of alcohol detox and alcohol rehab. All of our alcohol treatment centres are CQC registered and staffed by qualified professionals.
Call us for a free assessment and more information on how we can help you get and stay sober. The professional rehab doctors will conduct a comprehensive medical assessment before prescribing a bespoke medical detox.
Our inpatient alcohol treatment centres can help to free your body and mind from alcohol. Your alcohol-free life can start as soon as you pick up the phone and speak with one of our experts today.
If you or a loved one need immediate help with stopping alcohol safely, call us now on 02072052845. Our lines are open 24/7, Rehab Guide is waiting to take your call.
References:
"Chlordiazepoxide 10mg Capsules – Summary of Product Characteristics". UK Electronic Medicines Compendium. 19 December 2012. Retrieved 23 April2017.
2.Fischer, Jnos; Ganellin, C. Robin (2006). Analogue-based Drug Discovery. John Wiley & Sons. p. 535.
"Misuse of Drugs Act 1971 (c. 38): SCHEDULE 2: Controlled Drugs".
4 Mind.org.uk
https://www.mind.org.uk/information-support/drugs-and-treatments/sleeping-pills-and-minor-tranquillisers/comparing-benzodiazepines/
"Chlordiazepoxide patient advice including side-effects". drugs.com.
U.S. Food and Drug Administration. Librium C-IV (chlordiazepoxide) capsules.
Committee on the Review of Medicines (March 1980). "Systematic review of the benzodiazepines. Guidelines for data sheets on diazepam, chlordiazepoxide, medazepam, clorazepate, lorazepam, oxazepam, temazepam, triazolam, nitrazepam, and flurazepam". British Medical Journal.
MacKinnon GL, Parker WA (1982). "Benzodiazepine withdrawal syndrome: a literature review and evaluation". The American Journal of Drug and Alcohol Abuse. 9 (1): 19–33.
Call: 0141 427 3491 – NOW for Free Advice