Scotland Records Highest Ever Drug Deaths
The National Records of Scotland released statistics earlier this month revealing Scotland have suffered their highest ever number of drug-related deaths in 2018 since records began.
New figures shockingly revealed a 27% increase on the previous year with 1,187 Scots dying as a direct result of drug poisoning.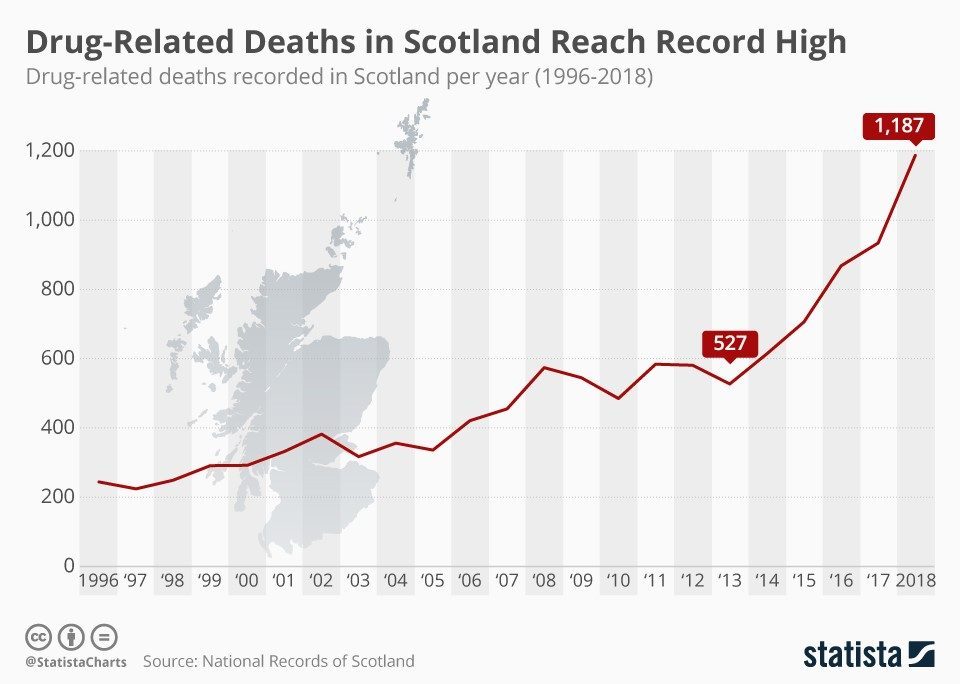 Source: National Records of Scotland. Statistics have seen drug death soar over the past 5 years
Scotland's Public Health Minister declares drug crisis
Scotland's Public Health Minister Joe FitzPatrick has stated that Scotland is facing a public health emergency over the number of individuals currently dying from drug overdoses.
Scotland has an estimated population of 5.4 million people. With around 60,000 problematic drug users, Scotland's drug death rate is now nearly three times higher than the rest of the UK as a whole. Scotland's drug death rate is also reported to be higher than any other country in the EU.
Responding to the latest figures, Mr FitzPatrick has said:
"The number of people who have lost their lives because of drug use is shocking. It is vital this tragedy is treated as a public health issue, and we are prepared to take innovative and bold measures in order to save the lives of those most at risk."
Mr FitzPatrick appointed Professor Catriona Matheson as chair of Scotland's drug death taskforce earlier this month. Professor Matheson will be responsible for implementing further changes to Scotland's addiction services and the current drugs law to help protect Scotland's most vulnerable drug users.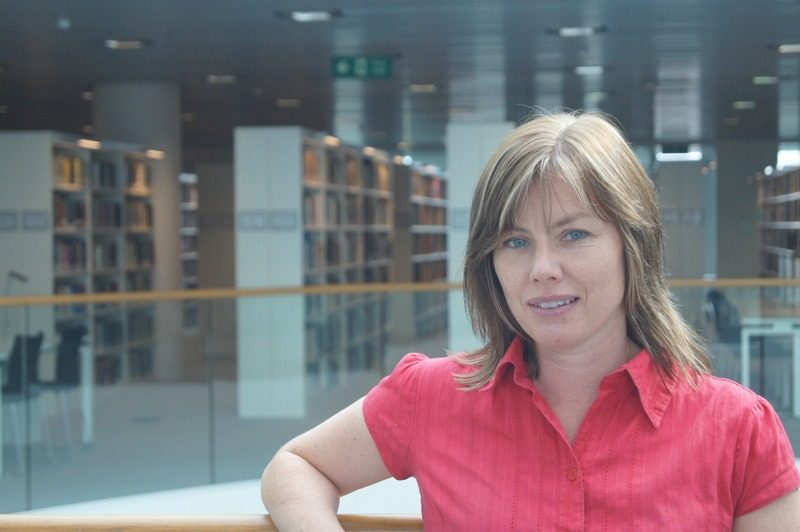 Professor Catriona Matheson has an enormous task ahead in reducing Scotland's drug-related deaths
Professor Catriona Matheson is aware of the urgent need for radical change. She said:
"These figures bring the scale of the problem we face in Scotland into sharp focus. The need for urgent action is clear, and the task force gives us a mechanism to do that.
"It is imperative that the taskforce identifies ways in which we can do more to save the lives of those who are most at risk, and we will look carefully at what has worked in other parts of the UK and internationally to ensure we apply strong evidence-based practice."
The Scots government's new alcohol and drug strategy has received an overhaul and a  substantial investment of an additional £20 million per year. The strategy details an eight-point treatment plan focusing on improving access to effective drug and alcohol interventions and services.
With the recent release of Scotland's latest shocking statistics, the appointed drug death task force will be looking at further ways this can be improved upon and effectively implemented.
More rehab funding needed for Scotland's most vulnerable drug users
Where a chronic drug addiction exists or where a patient suffers from a dual diagnosis illness, inpatient rehab is recommended. Inpatient drug rehab provides high levels of support and intensive, evidence-based addiction treatments required to provide a solid foundation for ongoing recovery.
The temptation to use drugs while detoxing is removed in drug rehab as patients are disconnected from the community while they get well in a focused abstinence environment.
Drug rehab offers numerous benefits to an individual who wants to get and stay clean. It provides a stable environment where patients can safely undergo the kind of intensive therapy that would make them vulnerable in the community. Unearthing and healing the root causes of addiction is a vital part of the recovery process, as is learning new healthier coping mechanisms and essential relapse prevention techniques.
Addiction is a very complex illness; those that are trying to overcome it within the community are faced with an exceptional challenge.
Immediate help for drug addicts
Rehab guide has access to the UK's best drug and alcohol treatment centres and will provide a free of charge triage assessment and programme recommendation in line with your individual treatment requirements.
While we do provide affordable drug rehab, not everyone is in a position to be able to fund private rehab treatment. That being the case, we strongly suggest you contact your local drug and alcohol services. Mutual aid groups can also prove a helpful source of community support.
The most important thing to do when trying to overcoming any addiction is to ask for help from the correct sources. Addiction requires specific and specialist treatment. Your GP will be able to give you a full list of drug and alcohol services available in your local area.


For immediate private residential rehab with no waiting lists, please call Rehab Guide today. Our friendly addiction treatment experts will conduct a professional addiction assessment and advise you of your treatment options according to your needs, location and budget.
Sources and references:
National Records of Scotland
BBC News
Narcotics Anonymous
Talk to Frank
https://www.abdn.ac.uk/news/images/DSC06015_rdax_800x532.JPG